"You were born with a special gift. But the people around you treat it like a curse. Your mother is afraid of you, and your father looks at you with shame in his eyes. Come to Whispering Rock Psychic Summer Camp, and you can show them all. Back home, your powers make you a loner, an outcast, a circus freak. But in this dojo, in this psychic dojo, they make you a hero."
— Written by
Coach Oleander
, recited by
Razputin Aquato
Whispering Rock Psychic Summer Camp is a remote government training facility where paranormally gifted children are trained to become Psychonauts. The camp sits on the shores of Lake Oblongata, opposite the Thorney Towers Home for the Disturbed. It is the main setting of Psychonauts.
About Whisper Rock Psychic Summer Camp
Edit
Whispering Rock has had quite a history ,that can be traced all the back to 500 years ago. When a huge Psitanium asteroid plummeted down on this simple life-giving soil that is now known as a humble camp ground. That very day this place was marked by the Lord to be something different, unique and amazing. For the very ground it's self is paranormal and full with power. In the past old Natives made the Psitanium material into arrowheads and scattered them through out the land 100's of years ago. They called it Whispering Rock, and since then the name has stuck. Now these arrowheads also severe the camp as a type of currency and is extremely valuable.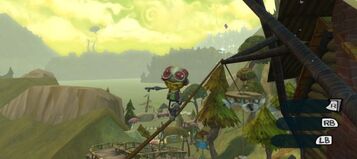 But with great power comes great responsibility. The Psitanium power is not suitable for the average human. As seen by the past settlement of Shaky Clam. Which due to the power found in the soil itself, caused this old town to go in to ruin. Its residents ending up mentally unstable and in Thorney Towers Home for the Disturbed. Which thankful this problem has now been resolved thanks to Lake Oblongata. This is one of the reasons this campground is only for Psychics. They are that rare few of the population that can handle such power, and use it for good. The Psitanium soil, is the foundation on which this camp was built. Not just being a good place for obstacle courses and some cabins. (it's that too) But it is a wonderful foundation for the young psychics minds. The Psitanium helps make a psychic more psychic. Which in turn has caused this very place to be perfect for helping Psi Cadets hone their craft. as well as unlock many new skills they didn't even know they could do. Some of the main things that Whispering Rock Psychic Summer Camp provides is a place to train, have adventure, explore new worlds, and use and unlock the psychic true potential. Also there is quite a heavy social burden that comes hand in hand with psychic abilities. People of all kinds just don't understand these abilities. From Communities, strangers, friends and even their own families at times ,are scared and reject them. Deeming them crazy, weird and dangerous. Making this group, a crew psychic of misfits. Yet here at
Whispering Rock Psychic Summer Camp the misfit finally fits in and is accepted with open arms.This camp was made with a wonderful goal in mind. That each young psychic could finally have a place to call home away from home.
Camp Residents
Edit
Camp Staff
Edit
The camp is run by of a group of super international secret agents. In other words Psychonauts.
They are here to guide these young minds to Psychic successes. There goal is to help the young campers to unlock, understand, explore and advance in their psychic powers. As well as provide a safe haven away from ridicule and suffering that often comes along with these remarkable abilities. This environment is one that these little Psi cadets can be free to be themselves and grow.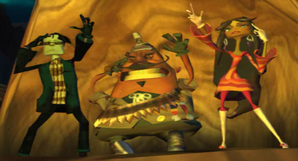 Campers come from all over the world to Whispering Rock. From the USA, Russia, and even outer space! With a hope to hone their Psychic powers. There are quite a number of unique kids in this bunch. Each from different backgrounds and status. All this the same psychic potential. Some are new this year and just now uncovering their powers with tender brains. Others have been coming here for years and are Psychic Scouts and Warriors. All are remarkable Psi Cadets.
Locations
Edit
Kids' Cabins: The area where the campers go to sleep for the night. There are 3 cabins total for boys and girls. There is an out house for those late night potty brakes as well. Coach Oleander's treehouse office can be found here, right up top the huge tree in the center of this area. Along with the first mental world of the game; Coach Oleander's Basic Braining. This is where our story begins. There is a lot to do here besides sleep so don't forget to take advantage. Early in the morning almost every single camper hangs out here. So it is a delighful place to get to know your fellow Psi Cadets. Also there is lots things to jump, climb and even flip over.
Ad blocker interference detected!
Wikia is a free-to-use site that makes money from advertising. We have a modified experience for viewers using ad blockers

Wikia is not accessible if you've made further modifications. Remove the custom ad blocker rule(s) and the page will load as expected.