The Soundtrack for Psychonauts includes music from the game, released in two volumes: the "Original Soundtrack" and the "Original Cinematic Score". All music was composed by Peter McConnell.
Original Soundtrack
Edit
"
All the pleasure of Psychonauts music gathered here for you to enjoy, without all that tedious running, jumping , and otherwise playing of the game.
"
–Double Fine Shop description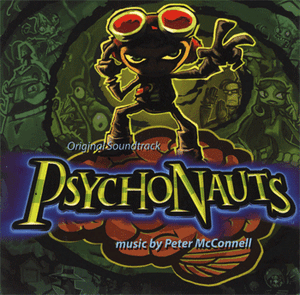 The Original Soundtrack consists of twenty tracks, including the main theme and the themes from various
mental worlds
.
Track listing:
The Meat Circus
Whispering Rock
Stay out of the Moonlight
Hagatha's Home
Happy Flowers
The Lungfish Lair
The Milkman Conspiracy
Dr. Loboto's Lab
Duel with the Critic
The Catwalk Phantom
March of the Inmates
Sasha's Immaculate Mind
The Censors Unleashed
Black Velvetopia
The Wild Bull Run/El Odio
The Matador
Gloria's Secret Garden
Bonita's Tragic Muse
Bunk Time
Title and End Credits
Original Cinematic Score
Edit
"
It has the music from the cutscenes of Psychonauts, without all of those annoying words or sound effects.
"
–Double Fine Shop description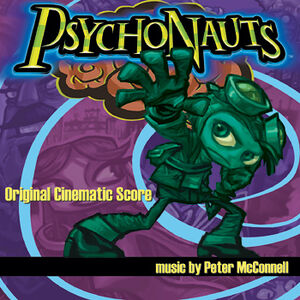 The Original Cinematic Score consists of eighteen tracks, mostly taken from cutscenes in the game, concluding with a medley of themes.
Track listing:
Coach's Welcome - (2:30)
Bobby Zilch & Sasha - (2:04)
The World is a Better Place - (1:01)
March of the Psychonauts - (2:43)
Lili Kidnapped - (2:02)
Was That a Dream? - (2:36)
Top O' the Lungfish - (2:03)
Call Me Linda - (0:54)
Dr. Loboto's Evil Plans - ((2:11)
Ah, the Theater! - (2:09)
Rise Up, Milkman - (2:33)
My Patron - (1:27)
Beauty and the Bull - (0:57)
Love Found and Lost - (1:54)
End of the Asylum - (3:19)
The Fathers - (2:47)
Summer's End - (4:45)
Psychonauts Theme Medley (Remixed and Remastered) - (4:28)
Availability
Edit
Both the Original Soundtrack and Original Cinematic Score are available on CD or via digital download. CDs are available directly from the Double Fine store as well as various retailers. Digital downloads are available from several locations including Steam, iTunes, and Amazon MP3. Digital Downloads of both collections were included with the game in the Humble Indie Bundle #5 (now expired).
Links:
The Whispering Rock theme is played in a mall display of camping equipment in the Double Fine Productions game Costume Quest.
Ad blocker interference detected!
Wikia is a free-to-use site that makes money from advertising. We have a modified experience for viewers using ad blockers

Wikia is not accessible if you've made further modifications. Remove the custom ad blocker rule(s) and the page will load as expected.