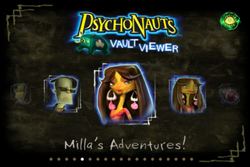 Psychonauts Vault Viewer is a free app for iOS (iPhone and iPad) that displays all of the Memory Vaults from Psychonauts along with commentary.
Description
Edit
Psychonauts Vault Viewer was created by Double Fine Productions and released on September 30, 2011. Per the developer's description, it was created to celebrate the release of Psychonauts for the Mac OS.
The main screen provides a list of vaults that can be selected. Once a vault is selected, the user can either peruse it manually or the developer commentary can be enabled which automatically flips through the slides.
Commentary is provided by Tim Schafer, who wrote the material for the vaults, and Scott Campbell, the artist who drew the vault slides.
External Links
Edit
Ad blocker interference detected!
Wikia is a free-to-use site that makes money from advertising. We have a modified experience for viewers using ad blockers

Wikia is not accessible if you've made further modifications. Remove the custom ad blocker rule(s) and the page will load as expected.