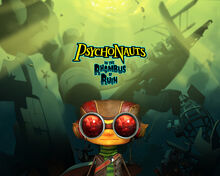 Psychonauts: In the Rhombus of Ruin is a 3D puzzle VR video game developed by Double Fine Productions only for the PlayStation VR. It takes place between Psychonauts and Psychonauts 2. The game was released on February 21, 2017.
Psychonauts: In the Rhombus of Ruin takes place immediately after the ending of the first Psychonauts game, Sasha, Milla, Lili, and Oleander heading off to investigate the disappearance of Truman Zanotto in a jet.
Gameplay
Edit
Being a VR game, In the Rhombus of Ruin will not be focused on platforming, like Psychonauts was, but will instead take a more puzzle-oriented approach using psychic powers such as Clairvoyance, Telekinesis and Pyrokinesis.
Ad blocker interference detected!
Wikia is a free-to-use site that makes money from advertising. We have a modified experience for viewers using ad blockers

Wikia is not accessible if you've made further modifications. Remove the custom ad blocker rule(s) and the page will load as expected.