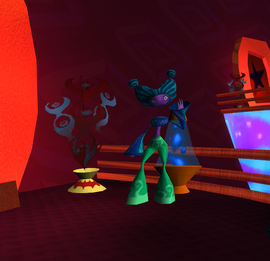 "Come on. Dance, baby!"
— Female Dancer
"Watch and learn, kid!"
— Male Dancer

The Party Dancers are characters found in Milla's Dance Party. Their only purpose is to make the level look more like a party. Raz can speak to them but he won't get any useful information.
Appearance
Edit
The party dancers are humanoid looking characters without necks. They come in various colors and clothes.
The party dancers see Raz as another dancer when he uses Clairvoyance on them.
Ad blocker interference detected!
Wikia is a free-to-use site that makes money from advertising. We have a modified experience for viewers using ad blockers

Wikia is not accessible if you've made further modifications. Remove the custom ad blocker rule(s) and the page will load as expected.