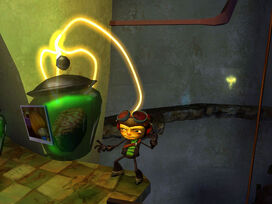 Jarred Brains are the stolen brains of Razputin's campmates at Whispering Rock Psychic Summer Camp. After Dr. Loboto used his sneezing powder to make his victims sneeze their brains out, they were stored in jars to later be used in Brain Tanks. They are scattered throughout the grounds of Thorney Towers Home for the Disturbed. Collecting a Brain will increase Raz's maximum health capacity.
Interacting with a Jarred Brain will result in Raz stating he doesn't think the jar can fit inside his backpack.
Raz kisses each and every brain (Even Bobby's brain)
Ad blocker interference detected!
Wikia is a free-to-use site that makes money from advertising. We have a modified experience for viewers using ad blockers

Wikia is not accessible if you've made further modifications. Remove the custom ad blocker rule(s) and the page will load as expected.