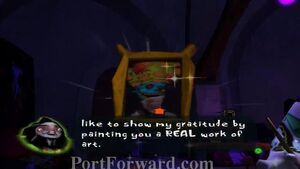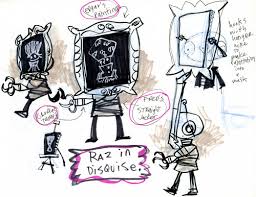 The Dr. Loboto Portrait is an item that Edgar Teglee painted. Before Edgar could give the painting to Razputin, he loses control of himself and draws a bullfight over the painting. Then Edgar smashes the defaced painting. Razputin had to enter Edgar's mind and help him get over his past about high school. After completing Black Velvetopia, Edgar paints Razputin another Dr. Loboto portrait with no bullfight on it. 
This is one of the three pieces of the Dr. Loboto disguise Razputin used to trick Crispin Whytehead into thinking he was Dr. Loboto. The painting was used as Dr. Loboto's face. Razputin wears this item on his face in Thorney Towers.
Ad blocker interference detected!
Wikia is a free-to-use site that makes money from advertising. We have a modified experience for viewers using ad blockers

Wikia is not accessible if you've made further modifications. Remove the custom ad blocker rule(s) and the page will load as expected.