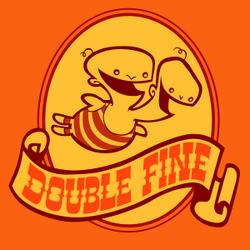 Double Fine Productions is a computer game developer company located in San Francisco, California. It was founded in July 2000, after Tim Schafer left LucasArts in January. The company was started with members of the Grim Fandango development team and some additional employees.
In 2005, Double Fine released Psychonauts on the Xbox, PlayStation 2, and PC. Following that, they published Costume Quest, Brütal Legend, Stacking, and then in 2014, Broken Age Act 1. Broken Age Act 2 was released in 2015, and in 2017, Psychonauts: In the Rhombus of Ruin, the first sequel to the original Psychonauts game was released. Psychonauts 2 is currently under production.
Double Fine gets its name from a sign on the Golden Gate Bridge that Tim Schafer saw, indicating that the Bridge is a "double fine zone". Tim Schafer thought the name was ingenious, as it would make people think that they bought "ad space on what must be the most expensive billboard in California" and it would make them think that "they owned the city and all of San Francisco had been declared to be a 'Double Fine Zone'". Recently, the sign has changed to read "Speed limit 45 mph – Auto toll $5", which Schafer has described as a "less awe-inspiring" message.
External Links
Edit